My name is Emma Thorne, the role I would like to progress into beyond university is freelance photography and occasionally videography. The role of this entails taking photographs or videos of events, people or objects for clients. "Freelance photography is the act of providing photos on a contract basis for different clients or as a self-employed photographer. This means you photograph subjects per contract or project as opposed to being an employee for a company." (Wiggins, C. N/A). This means when you're a freelance photographer, you are your own boss where you are responsible for managing your own hours and finding work. While there are advantages to this, it can also have some disadvantages such as not having a reliable weekly/monthly cheque and depends on what work you are able to get.
In the future, I see myself working on various different projects but mainly creating album covers and music videos for musicians as well as animal photography for pet owners. I am particularly passionate about the use of colour and using it in such a way to convey meaning and trigger psychological responses from the audience which I would like to incorporate that into the more creative projects I work on. I am also passionate about making things aesthetically pleasing to the eye which is why I think I would be good at this role. This is where I would like to be at in 5 years time, however, I am currently unsure on what I need to do to get there, therefore unsure about where I want to be in a years time as I work towards this goal; I will do research to educate myself on this and create a plan on what I need to do to get into this role in the industry.
Skills Inventory:
The skills that I currently have which will be essential for this role is creative visual thinking, efficient organisation and time management skills, knowledge on framing shots well, strong creativity. I am proficient with both PC's and Apple Mac. I have good camera operating skills, such as manipulating the aperture, shutter speed and exposure to get a desired visual outcome and have strong knowledge on composing shots well as well as using lighting effectively to produce the best results. This is an essential skill to have when wanting work in this industry, for example, a job advertisement for model photography for BooHoo states "Execution of setting up lighting, composition, colour accuracy, and exposure for each shot" (Indeed, 2021). I learn quickly and can adapt to new devices/systems and interfaces. Can successfully use softwares such as: Adobe Premiere Pro, Final Cut, Photoshop, Lightroom, Illustrator, After Effects, Muse, Audition. This is important in this industry as a lot of jobs require you to use these softwares well, for example a job advertisement for a 'Freelance social media and editorial photographer' states "Preferably able to edit images in Adobe suite" (Indeed, 2020). I am able to quickly adapt to whatever requirements are needed from me. I can successfully work both independently and with others which is often a requirement for jobs in this industry, for example, a job advertisement for a 'freelance commercial photographer' states "You must <…> have the ability to work independently as well as with the team" (Indeed, 2020).
However, my skills could be strengthened through more practice and exposure to a wider range of different cameras. I also need to improve and strengthen my confidence in both my ability to do things as well as communicate and network with people and gain contacts in the industry. I also need to widen my visual portfolio to display to potential clients to gain work as this is an important requirement for most jobs in this role "Evidence/portfolio of previous work that will show your suitability for the position" (Indeed, 2020).
Own projects and work experience:
My current online portfolio is slightly outdated and will be updated once completed some current ongoing projects, it also needs to be updated to look more professional.
After University
When I first finish uni I won't be able to jump into freelance photography straight away, I will need to get a full time job in whatever area I am able to get into to help me get onto my feet and get an income to live. While working full time, I will strengthen my portfolio and get whatever freelance work I can get until I am in a position where I can do that full time and maintain financially stable. I already have an opportunity to work with a small independent musician who wants photography doing for their new upcoming album that is being released in summer 2021 as well as the creation of a music video for one of his songs. Doing this will be a great way to build up my portfolio as well as gain more experience to help get more clients in the future.
Tutorials to improve skills:
In this industry, it's very competitive, so I have to constantly be improving my skills each project.
Portrait Photography:
This video taught me how important to make sure that the model is looking directly into the camera because it creates eye contact between the model and viewer of the image, which draws the viewer's attention to the subject. As well as this, it's extremely important to ensure the models eyes are in focus as the eyes tell a story and lets the viewer know what's going on, what the model is feelings, bringing more depth to the image. Another thing that I learnt which will improve my photography skills is taking 2-3 photos instead of 1 at a time makes the image sharper because there is less shake from shutter movement and you moving around. However, he also states at the end of the video that all of the tips discussed can be broken and not used to enhance a portrait as well.
Animal Photography:
The camera setting requirements can differ vastly in animal photography, depending on what kind of shot you want to get. If you're getting an action shot, I'd need the shutter speed high to avoid motion blur, but I would need lower shutter speed for portraits of the animals.
This video was helpful and I gained some knowledge I didn't already know when it comes to taking dog portraits. I learnt that composing the images so that they're eye level with the dog is really important for making it visually pleasing.
Issues in the Role and Industry
With freelance photography, or any freelance work; one issue that comes with that is I'll do not always get a stable income like I would with an average contract job. This is because it depends on what work I can get when so not having this guaranteed financial stability can cause stress. As well as this, it is typical to be busy one month and be unable to get little work the next depending on the time of year. Reflecting on this, I'm unsure if I will be able to cope with the financial stresses of this type of instability, so perhaps freelance wouldn't be the best option for me moving forward, however, this could be resolved through freelancing part time while I get started until I am able to regularly get work and go into freelance full time.
Another issue with being a photographer is that it's an incredibly competitive industry. "There are a lot of photographers out there, almost all of which aren't full-time. In the early days, it made life difficult, and occasionally it still does. It is one of the worst things for new professional photographers," (Baggs, R. 2019). This means it is extremely important to be constantly improving the quality of my work and keep my portfolio up to date to increase chances of getting clients. This as well as making connections is very important for getting work which is why networking is so important.
I will also have to travel a lot, according to (Baggs, R. 2019). "Even if you live in a major city, the likelihood is, you'll have to move around a lot for shoots. There are times when that's great, for example getting to go abroad and be paid to do so. However, there are many times where you have to travel to boring domestic locations which is time consuming and tiring.". Although this can be an advantage, it's a disadvantage for those who need stability. This also means one is required to drive to be able to easily access different locations with equipment. This works well for me as I already have a drivers license and car and I'm used to making long journeys regularly.
Another issue photographers regularly face is rejection. "The biggest hurdle for any photographer is the rejection that he or she will face on a daily basis. <…> Clients will decline your services in favor of those from another photographer. Even the world's greatest photographers face rejection. The difference between successful photographers and unsuccessful ones is that a successful photographer can shrug off those rejections and continue to soldier on." (moneymakerphotography.com, N/A). This means that I must be prepared to get rejected and keep moving forward and not let it effect you in carrying on to seek work.
It's important to ensure I copyright my work to avoid getting into legal battles and/or having people claim that my work is their own. This can be done through contracts/release forms. "Although the default legal position is generally fair and beneficial to photographers, if you are providing photography services as part-time or full time profession, it is highly recommended to have formal contracts and proper terms and conditions for your services." (copyrightservice.co.uk, 2020).
Example of copyright release form:
In the past, I haven't done a copyright release form and have had someone claim my photos as their own. Because I didn't do a release form, I had no legal backup to claim the rights of ownership of the photos and lost out on doing further work for someone because they thought someone else had taken the photos. To avoid things like this happening in the future I will ensure I copyright my photos and send release forms to anyone I take photos for. I will also ensure I mark my work with copyright notices through watermarks to ensure to make it clear that the copyright exists. This will help "to deter infringement." (copyrightservice.co.uk, 2020).
If I have photos of a model then I should also ensure I do a model release from. "If you intend to sell or distribute images that include people, then it is worth getting your subjects to sign a model release form as this will protect you against any comeback." (copyrightservice.co.uk, 2020).
Example of a model release form: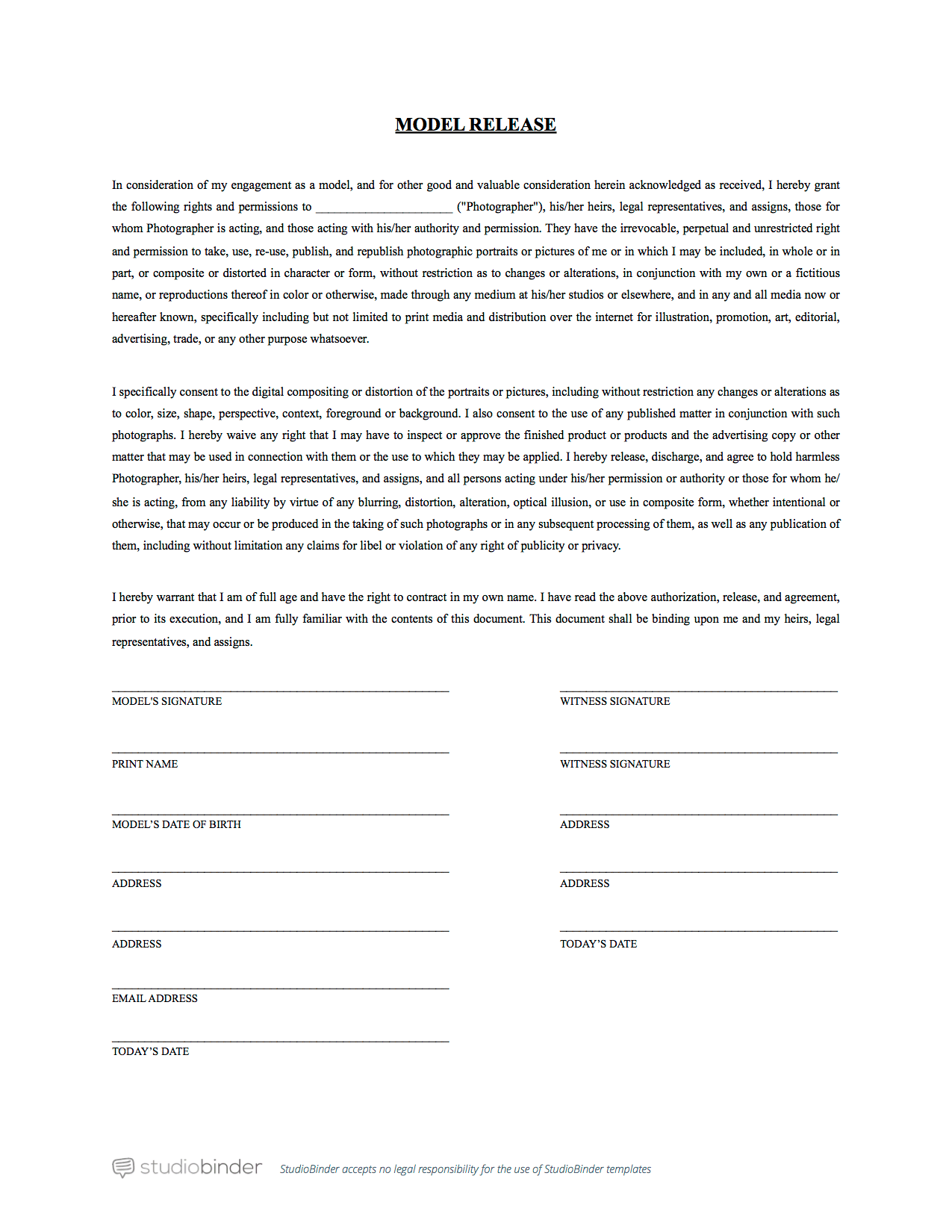 Finance and funding
To start my business, I will need money to buy equipment needed, such as more lenses, lighting equipment etc as well as things such as studio space and travel costs. There are different ways I could do this; one being get a job and save up, another being applying for a business start up loan. I can apply for a loan on gov.uk. "Apply for a government-backed Start Up Loan of £500 to £25,000 to start or grow your business. <…> You'll get free support and guidance to help write your business plan, and successful applicants get up to 12 months of free mentoring." (Gov.co.uk, N/A). This would be good because not only will I get financial support to start up the business, I'll also get guidance to help write a business plan to increase the chances of the business succeeding. However, the downside of doing this is that I'll have to pay back the loan over 1-5 years which is risking loosing a lot of money and being in debt if the business fails. Because of these risks, I will save up to start the business myself through working and do research on how to successfully create a business plan.
With freelance work, I wouldn't have the financial stability of a weekly/monthly wage. I'd get paid as I get work and sometimes have to chase up clients to get paid for the work I've done for them. I would make money by finding clients who want photos taken for them. This could be at an event or promotional photographs for small businesses, "small business owners understand how important it is that they have an attractive presentation of their products and services and they probably realize how hard is to keep up with social media, and marketing trends without quality content. This is exactly where you come into the picture." (Milana, 2019).
Being a freelancer means you are self-employed, meaning that I must know how to pay national insurance and a tax self assessment. "The self-employed usually need to send a Self Assessment tax return and pay their tax bill each year." (Bromley, S. 2020). (Bromley, S. 2020) states that a self assessment is "is the tax return process for self-employed people.". In order to ensure I fill in the tax return correctly, I'll need to keep records of every payment I've received through freelance work. "You need to keep records (for example bank statements or receipts)" (Gov.co.uk, N/A). Once you have done this, the HRMC will calculate how much you owe based on how much money you earn, "How much tax you pay will depend on the Income Tax band you're in." (Gov.co.uk, N/A). If I fail to pay what I owe before the deadline, "You'll pay a late filing penalty of £100" (Gov.co.uk, N/A). If I'm later than 3 months, this penalty will increase. In order to send off my tax return, I need to register for self assessment on Gov.co.uk. Once I have done this, an account will be made for me and I'll will receive a letter "with your Unique Taxpayer Reference (UTR) number within 10 days <…> You'll need your UTR to file a return. You'll then receive another letter with an activation code for your account." (Gov.co.uk, N/A). Once these steps have been completed I will then be able to file tax return online. "You usually pay 2 types of National Insurance if you're self-employed:
Class 2 if your profits are £6,475 or more a year
Class 4 if your profits are £9,501 or more a year.
You work out your profits by deducting your expenses from your self-employed income." (Gov.co.uk, N/A). This is payed through the Self Assessment.
It's important to get public liability and third party insurance to protect myself and my client. Public Liability insurance can be covered with https://www.photoguard.co.uk/, this will cover "extensive legal costs that are a result of legal action being taken against you for photography or filming related incidents where there is a third party injury or property damage." (photoguard.co.uk, N/A).
Covid Finance
During the Coronavirus Pandemic, many industries and jobs have been severely impacted, leaving many people on furlough. However, for freelancers, this has been slightly different. Freelancers who are unable to work from home receive the 'Self-Employment Income Support Scheme fourth grant'. This scheme allows those who are self employed that have been impacted by the coronavirus are able to be financially supported by the government. In order to be eligible to receive this, you must have submitted your tax return and either be unable to trade or the amount you are able to trade has been reduced. "To work out your eligibility we will first look at your 2019 to 2020 Self Assessment tax return. Your trading profits must be no more than £50,000 and at least equal to your non-trading income. <…> You must also have traded in both tax years:
2019 to 2020 and submitted your tax return by 2 March 2021
2020 to 2021 <…>
You must also declare that:
you intend to continue to trade
you reasonably believe there will be a significant reduction in your trading profits due to reduced business activity, capacity, demand or inability to trade due to coronavirus" (Gov.co.uk, 2021). There have been a number of grants given during the pandemic and the current one is the fourth.
Networking
A good way to network is to create social media platforms where I can showcase my work and potentially create a following to find potential clients. An example of someone who does this well is @DruePhotos on instagram and twitter:

Drue has gained a lot of recognition from sharing his photographs on social media and as a result receives a lot of offers from potential clients, giving him the opportunity to get lots of work as well as the freedom to pick which jobs he wants to do. My goal is to be in the same position as him in the future, but to achieve this I will need to promote my work on social media to gain an audience. One way he gained a lot of followers was through showing the process of creating his photos, sharing his creativity and use of space, this is something I could do because it's interesting to people seeing the process of taking photos. Another way he gained followers was through TikTok, exploding videos of the process and the results – these videos gained a lot of attention and promoted his work for him.
I have created an instagram that showcases the work I have done and as I do more more, I plan to update it and connect with other emerging photographers to create connections and gain a following:
Another way to network is using the site Linkedin, which I have a profile on:
This site allows me to make connections with people who may want to employ me and allows them to see what past experience I have to see if I would be appropriate for the job. It's a great way of finding work and connecting with people within the industry. I have been offered jobs on this website in the past.
Competitions and festivals
Entering competitions and festivals is a good way of getting my work out there and recognised by potential clients. It's also a great way for winning money for my work. For example, 'Life Framer' run many photography competitions where people's work can end up in exhibitions around the world:
London Photo Festival also do competitions where you can "Win cash prizes and the chance to be exhibited in a central London venue." (londonphotofestival.org, N/A). As well as this, I can enter festivals for a chance to have my work exhibited for potential clients to see my work and have an increased chance of getting more work.
Partaking in these things is a great way for exposing my work even if I don't win, while also becoming more aware of what competition I have within the industry to motivate myself to improve my photos.
Bibliography
Baggs, R. (2019). The 10 Worst Things About Being a Professional Photographer. Fstoppers, viewed at 3rd March 2021 <https://fstoppers.com/originals/10-worst-things-about-being-professional-photographer-396853>
Bromley, S. (2020). How to do a self-employed tax return: a guide to completing your Self Assessment. Simplybusiness, viewed at 27th March 2021 <https://www.simplybusiness.co.uk/knowledge/articles/2020/11/how-to-do-a-self-employed-tax-return/>
copyrightservice.co.uk. (2020). Photography and copyright. copyrightservice.co.uk, viewed at 4th April 2021 <https://copyrightservice.co.uk/protect/p16_photography_copyright>
Gov.co.uk. (N/A). Apply for a Start Up Loan for your business. Gov.co.uk, viewed at 27th March 2021. <https://www.gov.uk/apply-start-up-loan>
Gov.co.uk. (N/A). Self Assessment tax returns. Gov.co.uk, viewed at 27th March 2021. <https://www.gov.uk/self-assessment-tax-returns>
Gov.co.uk. (2021). Self-Employment Income Support Scheme fourth grant. Gov.co.uk, viewed at 22nd March 2021. <https://www.gov.uk/government/publications/self-employment-income-support-scheme-grant-extension/self-employment-income-support-scheme-grant-extension>
Gov.co.uk. (N/A). Self-employed National Insurance rates. Gov.co.uk, viewed at 27th March 2021. <https://www.gov.uk/self-employed-national-insurance-rates>
Gov.co.uk. (N/A). Register for Self Assessment. Gov.co.uk, viewed at 27th March 2021. <https://www.gov.uk/register-for-self-assessment/self-employed>
Indeed.com. (2020). Find jobs. uk.indeed.com, viewed at 4th April 2021 <https://uk.indeed.com/jobs?q=photography&l&vjk=88e874e16091e529>
Londonphotofestival. (N/A). Photography Exhibitions | Competitions | Podcasts. londonphotofestival, viewed at 22nd March 2021. <http://www.londonphotofestival.org/>
Milana. (2019). 10 Ways to Earn Money as a Freelance Photographer. cossetmoi.com, viewed at 27th March 2021. <https://www.cossetmoi.com/earn-money-as-a-freelance-photographer/>
moneymakerphotography.com. (N/A). Five Problems You'll Face as a Photographer. moneymakerphotography.com, viewed at 24th February 2021 <https://moneymakerphotography.com/five-problems-youll-face-photographer/>
photoguard.co.uk. (N/A). Public Liability insurance. photoguard.co.uk, viewed at 4th April 2021 <https://www.photoguard.co.uk/public-liability-insurance-photographers>
Wiggins, C. (N/A). What Is Freelance Photography and How You Succeed. Cole'sclassroom, viewed at 24th February 2021 <https://www.colesclassroom.com/what-is-freelance-photography/>